Treatment for Female Androgenetic Alopecia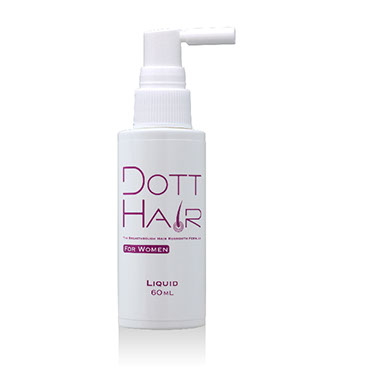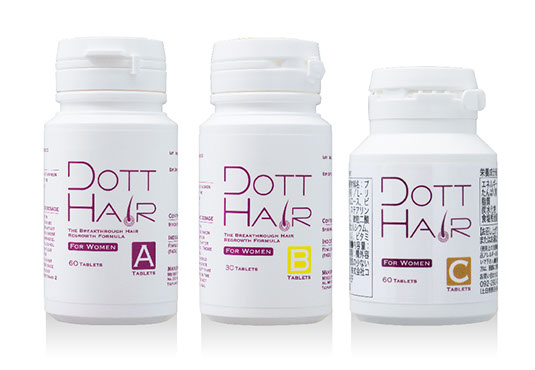 Dott Hair for Women Liquid
(medicine for external use)
Dott Hair for Women Tablets
- Net content
60ml / 1 bottle (1 month supply)
- Net content
Tablet A: 60 tablets in 1 bottle (1 month supply)
Tablet B: 30 tablets in 1 bottle (1 month supply)
Tablet C: 60 tablets in 1 bottle (1 month supply)
- Active components
Minoxidil 5%
- Active components (per tablet)
Tablet A: Minoxidil 1mg
Tablet B: Spironolactone 20mg
Tablet C: B Vitamins (Biotin, etc.), Vitamin C,
Minerals (Zinc, etc.), Amino acids
- Directions for use and dosage
Use twice a day, in the morning and the evening. Use twice a day, in the morning and at night. Apply 1ml (about 6 pushes of the sprayer) on the scalp of the affected area and massage gently.
- Directions for use and dosage
Take a total of 5 tablets each day with water: 2 tablets of Tablet A (pink), 1 tablet of Tablet B (yellow), 2 tablets of Tablet C (beige). These could be taken either in the morning, noon, or evening although taking them after breakfast is recommended.
- Important point at the time of use
Wash and then dry the hair and scalp well before applying the product to get better results.
In case the solution enters the eyes, rinse with water. If pain and inflammation persist, consult with a doctor.
- Important point at the time of use
In order to standardize the medicine's concentration in the blood, it is recommended to take it at a fixed time each day. People who take alcoholic drinks (such as at night) tend to easily experience swelling the next day. So, it is recommended that they take the medicine early in the day such as after breakfast or after lunch.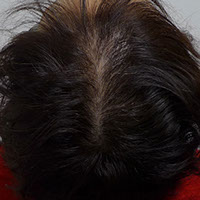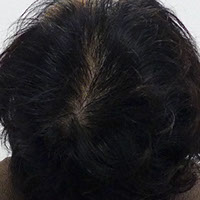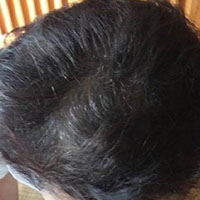 Dott Hair for Women contains a well-balanced combination of nutrients needed by the hair in order to respond to the symptoms of FAGA. It delivers the nutrients quickly to the scalp and restores the female hormones and scalp environment, normalizing the hair cycle and leading to the growth of thick and healthy hair.
Main causes of female androgenetic alopecia (FAGA)
Lifestyle disorders
such as insufficient sleep and poor
eating habits
With the external / internal dual treatment approach focused on the female hormones, hair growth success rate can be increased.
A well-balanced combination of highly absorbable active ingredients are expected to deliver faster results than the regular medicinal products.
Female
hair loss treatment
High grade and well balanced active ingredients
Safe and high quality production



With approval
from the
TFDA
certified
pharmaceutical
factory
Originally as a vasodilator, minoxidil was the only ingredient permitted by the FDA as a topical hair grow medicine. It promotes hair growth by improving blood circulation in the scalp and the dispersion of the necessary hair grow active ingredients.
It has been reported that by restoring the female hormone balance, female hair growth has been observed.
Vitamins, amino acids, minerals (zinc, etc.) (in the tablet)
- Ingredients that are necessary for hair growth.
Improve blood circulation in the scalp
Female hormonal balance and hair growth
Necessary ingredients for hair growth



Amino acids, biotin, etc.